Race Day Six: Zagora – Erg Cheggaga - Zagora



So we went to bed thinking that at least we wouldn't have the wake up call in the morning from Rammstein, as unlike Merzouga where the hotel was some distance away from any other buildings, The Hotel Reda in Zagora was in a built up area so we guessed they wouldn't dare wake up half the town at was after all 05.00 Moroccan time….





Wrong! Noisy fookin' Germans before dawn again!!!





Today's stage was a loop out and back with some more dunes on the way. For the pro's this was a long extended loop through the dunes of the Erg Cheggaga. For those of us in Amateurs we were luckily to just have to ride the dunes across the "neck" of the long loop, although in the event it wasn't exactly easy.





Due to the out and back nature of the course, John wasn't required to go out with fuel as we passed a petrol station at Tagounite twice on the route. However I again filled up the bike to be on the safe side before leaving.





I decided that without a stand I didn't to get to the start too early but in the event things did get a bit rushed! A moderate ride out of town on sandy tracks got me to a flat open plain; here my first dilemma was how to park the bike with no stand whilst I got my timecard. I solved this by pulling up next to one of the other British riders and asked him to hold my bike. I then returned and sat on the bike until my start.





We soon found ourselves on a wide open , flat and stony plain with the road book instruction "follow GPS" for 17km, it turned into a flat out blast until we past a water tower after which we followed more tracks around some agricultural plots in the shadow of a range of hills before arriving at CP1, here there was a handy thorn tree, so I parked the bike against it, or to be more accurate… in it! Those thorns are sharp!
Following on from here was an on road liaison section, this led us over a pass through the hills we had been shadowing, where the road was in the process of being repaired, so much so that we might as well still off road! The twisty bends were fun though!
Then followed a long straight road to Tagounite. This was odd as it had a single lane width of tarmac with an equal width of gravel on the left and a narrower strip of gravel on the right. I soon discovered the technique here was that everyone used the tarmac strip to travel in both directions but when you met traffic coming the other way a game of chicken ensued, with right of way seemingly being determined by the size of the vehicle, the largest wins! As a result I was forced to make several trips onto the gravel to avoid oncoming traffic.
Arriving in Tagounite was a little odd, usually you detected the proximity of towns by the increasing litter levels and the towns themselves have a rather run-down appearance but here we were suddenly onto to wide smooth roads running between very new looking smart buildings, in particular a large Army barracks and a high school both in large walled compounds. Just beyond these after a new roundabout was the fuel station, again looking newly built and then a wide boulevard with some very impressive looking street lamps along it, led off towards the town proper.
Stopping for fuel, I then decided on a lunch stop using a handy wall to lean the bike against. Donna and Colin from Torque were set up on the forecourt so I had a natter to them whilst I got some food and water down my neck.
Suitably refreshed, I set off again only to go the wrong way! I automatically turned out of the petrol station onto the wide boulevard into town, when the road book told me to turn back on myself and turn off the road at the roundabout. I executed a quick U-Turn, rode back past the petrol station and turned left at the roundabout onto a rocky piste past the high school and towards CP2, the start of the next special stage that was only a few hundred metres away. Again I found a handy tree and parked the bike.
Started off the route took us along a fast, straight but very rocky track. This was not great news given my right hand fork seal was still leaking and the ride was very harsh. Then I glanced down to see that my GPS had turned itself off, no attempt on my part could get it to restart. So I was forced to pull over (at a convenient thorn tree) and check the power supply. All was fine, the connections and fuses were all OK so I could only assume the heat had got to it again, as that day was blisteringly hot. I decided I would just have to rely on the road book, trip meter and compass (CAP) headings.
The road book was also giving me grief as the switch had failed to run the book forward the previous day (although still worked in reverse) however after loosening off some of the cable ties and fiddling with the wires, it had started working again. However it now decided to fail again and no amount of fiddling with the wires would get it to work, so I had to scroll it forward by hand using the knob on the side of the road book holder. Not easy trying to ride one handed at 80-90kph on a rough rocky track!
The track ran alongside a low range of hills on my left, then after a sharp turn I crossed this through a gap to emerge into a wide open plain, with sand dunes up ahead stretching to the horizon. This was the Erg Cheggaga and into which the pro classes had headed. We on the other hand turned sharp left and headed to towards the dunes to run down the opposite site of the range of hills.
It was at this point I scrolled the road book forward to discover the directions through these dunes consisted of riding from one GPS waypoint to another, not a lot of help without a working GPS! I had expected there to be CAP headings to follow as a safety back up but these were absent.
Knowing from studying the map I had to run approximately south, I followed a rough heading of 180o and headed into the dunes, there were a few other bikes and cars around so I could break my own rule and follow others but this of course presumed they knew where they were going. I noticed a Suburu in the car category heading back towards me? So I stopped on a high dune to see what they were up to. From my vantage point I could see there were many stony valleys between the relatively low dunes and they were looping back round to obviously make use of these. I decided to do likewise and managed to get a long way into this first dune set without having to ride on sand at all. When I eventually got back onto the dunes themselves, I found them to be horribly soft, whereas in previous days it was easy to stop on top of dunes to scout the way ahead, here you just sunk into the sand.
At least the battery was fully charged and this time when I bogged down or on a few occasions when I lost the front wheel and took a tumble, I would whip the clutch in quickly, hit the starter and then click the bike into neutral (it goes in easy when its running) so I could extricate the bike or pick it up (or both) with the engine running and get moving quickly, which was making progress a lot easier.
I pulled up at one point next to a German rider and fellow Brit, Kurt Burroughs and explained my problem with the GPS. Kurt was having his own issues and was concerned that his GPS was telling him to turn right and head west. The German rider didn't seem to have a clue and admitted he was just following other people's tracks! I realised what Kurt's problem was and explained he must have selected the track for the Pro classes not the amateur! After changing it the three of us headed off together. The dunes consisted of several distinct sets, with flat stony ground between them, in the second set I parted company with the others and carried on following my southerly bearing. After quite a while, during which I had passed several of the car competitors, all with spades out, digging their way out of the soft sand, I spotted the tell-tale flag of a secret check point on the horizon, so all I had to do was head that way.
Another stony area followed and another, larger dune set before I reached the SCP, here parking the bike was no problem, stop, apply a handful of throttle and the back wheel sunk into the sand to hold the bike upright!
Upon hearing of my GPS problem, the crew assured me that the track was easy from here. I headed off through the dunes as the gradually got lower and eventually led me out onto a huge, flat, dry lake bed. I headed straight ahead and soon started to catch another rider both of us still heading south. Suddenly the rider who had been several hundred metres off to my right, disappeared! Slightly confused I stopped and looked around, he had stopped, turned sharp left and had ridden across behind me, without me realising. One disadvantage of using a neck brace, is that you can't turn your head too far, so your ability to look behind you is compromised.
Looking in the direction he was heading I could see more tell-tale dust trails so headed that way too and in about ten minutes arrived at CP3, the end of the special stage. I took advantage of this to get a good drink and eat some more food. This was also CP6 for the pros where they joined our route again at the end of their long dog leg into the dunes but despite having started almost two hours before me, none of them had arrived yet. It looked like they were in for a long day!
After a while I got on my way again on the liaison back towards Tagounite, at first a decent piste led back through the range of hills and then became a tarmac road as I descended towards the plain. In front of me was a brand new, straight tarmac road with the old (unsurfaced) piste winding along beside it. The road signs said to use the old road but all other traffic was using the new one, so I rode through the line of rocks that it seems serve as traffic cones in Morocco and headed off towards town. Entering Tagounite from this direction was like any other town, in fact this end seemed even more ramshackle and run down than most. I soon passed the petrol station but had no need to stop, then joined the "chicken road" for 15km, crossed the pass again and dropped down through the road works to CP4 (that had been CP1 this morning), I parked against the same tree and had a drink before starting again.
This special was just a repeat of the first one this morning and when I got to the section where the road book instructed "follow the GPS" I was luckily following a Swiss rider who was riding at my pace, so we just stuck together over the featureless plain until we rolled into the final CP. Here there was nothing to park against so I just lowered the bike onto its side and handed in my time card. That got a laugh from the CP crew!
A short ride back to Zagora for what had turned out to be a fairly good day for me and a reasonably early finish too. Radu's trailer made a handy "stand" whilst I did some maintenance...
I also found I didn't have to worry getting the remains of the snapped side stand bolt out of the thread, it had vibrated its own way out...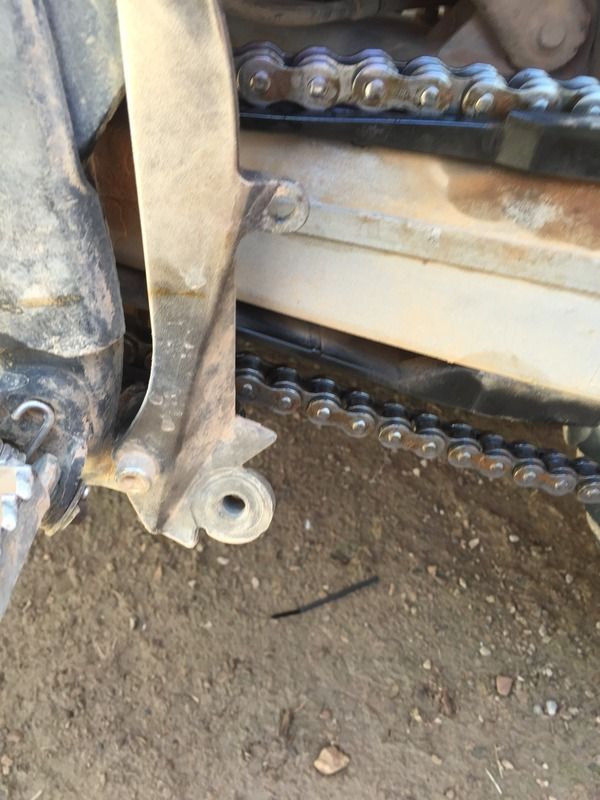 Radu and Elvis eventually got back having had a terrible day with lots of digging. After arriving Radu just collapsed beside the car and promptly went to sleep! It turned out that he and Elvis had not been able to complete the stage, they had been required to do an extra loop through the area of dunes I had ridden but they had timed out.
In fact it turned out to be a great day, achieving joint fourth place on the stage in the combined moto amateurs, it seems my times on the fast and open first and final specials being the major factor. Those fast fire roads on UK rallies seemingly putting me in good stead for that type of terrain! This also ensured my third place overall in Moto amateur over 50 was looking very secure, although I could of course lose it if I had a major crash or breakdown, so smooth and steady was going to be the order of the day for tomorrow. I had little chance of improving my position as I was 17 hours behind the first and second placed riders. They were the only two in our class to manage to complete both the King's Stage and the Dune Race, so respect was due!





Radu and Elvis, despite their less than perfect day had still achieved 6th place in "Car Pro" and were now sitting in Second place overall in the "Car Pro Series" class. Series is essentially the "Production" class as opposed to "Car Pro Open" where anything goes e.g. space frame replicas etc, so a great result despite the trying conditions.



By way of explanation, these are the categories in the Tuareg:



SINGLE CATEGORIES (for overall results)



Car Pro Open
Car Pro Series
Car Amateur
Car Amateur Suzuki
Truck
Quad
Buggy
Side by Side
Motorcycles Pro
Motorcycles Pro – driver >50 years
Motorcycles Amateur
Motorcycles Amateur – driver > 50 years
Motorcycles Amateur – 2 cylinder
ADDITIONAL CATEGORIES


– Women in each main category



MAIN CATEGORIES (by which the stage results are shown)



Car Pro
Car Amateur
Truck
Quad
Buggy
Side By Side
Motorcycles Pro
Motorcycles Amateur